Archive
---
Finals day 2021

The Club Finals Day took place on Sunday 12th September 2021 at 1pm on a warm afternoon and into a cooler evening.

Two competition Cups were played for; The Philip Eden Cup, Using two Woods first to gain 21 shots. Won by Alan Galley, runner up Phyllis Jeffray. The Rounthwaite Cup, Four Woods starting with best of 7 ends. Won by David Kennedy runner up Doreen Till

After a long afternoon and most members tired, The evening finished with a very tasty supper and later Chairman Pat Bee presented the Cups to the winners.
---
Hovingham League report 2021

Well done everyone!

Two years ago we were in the final of the Waltham Cup for the first time in our history, but this year we have surpassed that by ending up top of the league, again for the first time in the history of Sessay Bowls Club. Thanks to all the players, especially those who stepped in at the last minute so that we never went short. Also a big "Thank you" to everyone who kept the green and it's surrounding area in such a pristine condition.

Let's hope for a longer season next year.

Doreen
---
Chairman's report 2019

Once again it's time to produce the Annual Report.

As usual I will begin with the Green. Lots of work has been done throughout the season by Geoff and his band of regular helpers and in spite of the varying weather conditions it's been in good order if a little heavy at times. My thanks to the Green Team for all the time they put in to keep it in good condition.

Changing the playing direction on a regular basis seems to work well so will be continued in 2020.

The highlight of the season was getting to the final of the Waltham Cup, a competition where we had not even got in to the second round before. It was a nail biting semi final at Thirsk but we pulled it off winning by 1 shot which put us into the final at Kirkbymoorside where we finished runners up. Well done to all who played in the match and here's to next season.

All the leagues finished mid table but making teams still remains an issue. Earlier in the season we considered dropping a league, however there have been changes to the Hovingham league for 2020 which should ease the situation for us and many other clubs.

This season there have been 3 members on the sick list but hopefully they will recover over the closed season and be back with us in the new year. You have been missed.

Once again we hosted two county fixtures. Three members played County competitions and 3 members played for the County Teams. We also hosted the Topham Trophy on a lovely sunny afternoon in August.

The biggest disappointment of this season was the lack of interest in the club competitions. Consequently the only ones played were The Philip Eden and The Rounthwaite Cups; these were played for on finals day.

Finals day was another disappointment when only 13 members attended. Perhaps we need to discuss this at the AGM.

My thanks to team Captains/Selectors for all the work they put in, sorting teams etc and to Phyllis for her master stroke as our Secretary and very willing dogs body.

And last but not least our wishes to Earnest Pearson who reached the grand age for 80 in September. Happy Birthday.

My personal thanks for your continued support, winter well and return in good spirits. Thank you.

Pat.
---
Waltham Cup, Hovingham League.

Our chairman Pat Bee is delighted to report on our success in the Walham Cup competition.

Under the captaincy of Doreen Till, Sessay have gained a place in the Waltham Cup Final, to be played on neutral green on 1st August 2019 at Kirkbymoorside against Pickering.

It is the first time anyone can remember Sessay getting through any round in this competition, so reach the final this year is fabulous.

This year has been the most difficult in match selection due to shortage of member availability. Thanks to those who made themselves available and being available to further rounds.

The first round was played against Settrington on their green with a win for Sessay. A week later at the semi-final on neutral green at Thirsk, Sessay played against Stillington. After all 21 ends the score was equal so each rink had to play an extra end as a decider; Sessay were the victors with a win by two shots.

This is a fantastic achievement so far for Sessay and we are looking forward to what will be a hard game against the Pickering team on the Thursday 1st August at Kirkbymoorside.
---
Chairman's Report, 2018
The time to produce the Annual Report comes round far too quickly, however I hope I have covered everything.
As always I will begin with the green and thank the GREEN TEAM under the watchful eye of Geoff for all the hard work that has been done on the green, banks, ditches etc. I think the green and surroundings are a credit to the club and many compliments have been passed.
I mentioned in last year's report changing the direction on a regular basis, this seems to have worked out pretty well and I'm sure the green has benefited from this.
Thanks go to Ken Eillis who has obtained a number of sponsorships for the club (as illustrated on the advertising boards) this is after securing a £500 grant from his old company Taylor Wimpey to help with the cost of the mower and sprayer purchased at the end of last season.
Positions in all three leagues have improved. Difficulties making teams remains an issue but we managed to fulfil all fixtures, with only one match having to be rearranged because of bad weather.
We welcomed 3 new members, Dennis and Sue Ayling and Trevor Downey. Hopefully they have enjoyed the season and are already looking forward to 2019.
Sadly Anne, our Vice Chairman is no longer with us. She will be greatly missed as she was very involved with all aspects of the club. We shall also miss past member Jean Bates, secretary of the club for 13 years.
We had 2 county fixtures this season and we have to decide if to carry on offering our green. This will be discussed at the annual meeting in November.
Club competitions went well with new names appearing on the trophies. Finals day was well attended and a delicious meal was served to round off the day.
The season has been particularly busy for the Ladies section with 2 county fixtures, as already mentioned, hosting the Topham Trophy and the Marshall Salver. These matches have been helpful in swelling club funds. Ladies are also the captains of all the leagues and team selectors. Phyllis is our secretary and works unstintingly for the club.
Thank you all for you continued support. I hope you winter well and return with fighting spirit in 2019.
Pat.
---
Chairman's Report, 2017
Once again it is time to produce my Annual Report.
I will begin with the green as usual and say it improves year on year. We have had many compliments this season from county and league players alike. The credit for this goes to the Green Team under the watchful eye of Geoff H. As he remarked when he took on the job, it takes more than 1 person and as a result members have given support to Geoff in a number of ways i.e. cutting, ditches, banks, hedges etc. My thanks to all who have been involved.
Geoff and I decided earlier this season that all rinks should be used for league matches to ensure the green gets equal wear. In 2018 the direction will be changed every 1 or 2 weeks depending how many home games are played using rinks in rotation.
My thanks also go the Brian Anderson for dealing with the paperwork etc which helped us obtain a grant towards the new mower and sprayer. We acquired a grant of Ł1,500. Well done !
Once again we did not shine in any leagues but I think most games were enjoyed by all and the weather was in our favour most of the time. We welcomed 1 new member Stuart Reynolds who I'm sure will prove to be an asset to the club.
Anne, our Vice Chairman had a special birthday(80) this year. Anne hasn't been without her personal challenges this season so consequently not always available for all matches. However, we all hope 2018 will see her back on the green.
We have had 2 county fixtures this season. I did wonder if we could carry on with these. However we have already had requests for 2018 and Geoff (green) Phyllis (catering) are more than happy for these to take place therefore help will be required inside and outside at these matches please.
Competitions. Pairs day was well attended and played on a designated date easing the pressure on finals day. Also this season the Mallet Pairs (Audrey and Ray Trophy 1 man and 1 woman) a trophy not played for for sometime due to lack of support, was re- instated and played on set dates after the Hovingham League had finished. More on the subject of competitions at the annual meeting.
I congratulate this year's competition winners with new names appearing on the trophies once again.
It has been the policy of Sessay Bowls Club to play with Sessay Stickers on woods in matches. I have noticed this has not always been the case this season and would ask you to ensure this is put right in 2018 please.
Last and by no means least my thanks to Phyllis for all her work in front and behind the scenes. No club can function without a good secretary and general factotum, which I think she is. Very many thanks.
Thank you all for your support throughout the season. Any decisions I have made during the season have been with the clubs best interest in mind. I hope you feel that I have fulfilled the role as Chairman to your satisfaction.
I hope you all winter well and return in 2018 full of winning spirit.
---
Chairman's Report 2016
Once again it is time to produce my Annual Report.
As always I will begin with the green and thank all the members who have been involved in any way towards maintaining the green and surrounding areas. Generally I think the green has improved and in view of all that's been done this season 2017 promises to be a happy playing field. A fairly regular cutting rota has been established but just occasionally not always cut for a home fixture.
There is still an ongoing problem at times fielding 12 players for a match, even with our new members who we have been very pleased to welcome, this does not outweigh the ones who could not play this season for a variety of reasons. Consequently, we did not shine in any league.
Once again we had a special birthday with Edward reaching his 80th. Edward has been a stalwart and longstanding member of Sessay Bowls Club.
I would like to thank Ann for the work throughout the season and Phyllis for keeping up to date with paperwork and for the introduction of the monthly newsletter.
We have two county fixtures booked for 2017 which helps to make money for club funds. Helpers on these occasions would be appreciated.
Pairs day was well attended this year but competition entries remain low. Most competition matches are played after the Hovingham League has finished which allows plenty of chances to play the early rounds, therefore, I ask you to keep this in mind. I congratulate this year's competition winners and it's good to see new names on the winners list once again.
This brings me to Finals day, a day when members come together to acknowledge the achievements of the finalists and enjoy a delicious meal prepared by the ladies section in a friendly and relaxed atmosphere. This year, however, in spite of closing the green two weeks early at the request of the green staff, I felt putting the green "to bed" became more important than the bowling. I do know how important a job this is, having been involved for so many years and it has always got done in the past. Seasons do seem to be changing rather and there has been many days when had we stuck to normal closing of the green the weather was still with us.
Thank you all for your support throughout the season and dealing with any errors I have made along the way.
I hope you all winter well and return in 2017 full of winning spirit.
---
November 2013 : Chairman's Report
Once again, it is that time of year and I have pleasure in presenting my Annual Report for your perusal and, I hope, your acceptance.
As usual, I begin by talking about the green itself. As you know, this season we have had a "Green team" doing the job under my guidance and the system has worked reasonably well generally. I would have liked to have seen more cuts than we have had but I mustn't complain as the green has been in quite good condition and has played pretty well. The weather helped in this respect as we enjoyed the best summer's bowling for quite a while. My thanks and appreciation to the few members who stepped up to the plate and did the physical work – I will not name names as I would be sure to miss one out but we all know who they are. Sadly, apart from a little winter maintenance work, I will be unable to do any physical stuff, so we do need to think again about appointing a greenkeeper.
As usual, I will leave it to the respective captains to comment on the teams' performances but as usual we did not tear any trees up! The Hovingham League was run as a three rink format and this helped in our difficult job of supplying sufficient players to fulfil our fixtures but this simply underlines the difficulties many clubs are facing.
This brings me nicely onto the subject of membership and once again I am sorry to report that numbers are far too low to allow us to keep up with our commitments. Apart from the league teams, we have again had a pathetic support for our own competitions with some events attracting no more than three entries. The two positive aspects in this are the commitment being shown by some of the ladies and we do have more of them taking up the challenge of county competitions – also, the prospect of new players joining but the decline in support and commitment for the club continues and once again, I warn you all that if this carries on, we are in danger of folding – the clock is still ticking and is now at three years. Think on!
In spite of the forgoing, we still have the support of the county and are expecting more competitions at Sessay in 2014. I am hoping for and expecting full support for these events both on the green and off it.
Congratulations to all trophy winners and I am pleased to see a new name or two appearing in the winners' lists
As always, my thanks to all who have given their support in what has been a difficult year for me personally. Winter well and come out with renewed vigour in 2014.
---
Trophy presentations

Click on an image for full-size view
---
April 2013
As we look forward to another bowling year, we hope that the weather will treat us more kindly than it did in 2012 when we suffered the wettest spring/early summer I can remember and the green was under water four times between Opening Day and the end of May. At present, in spite of another terrible winter, with the green under ice, snow and flood for weeks on end, things look remarkably good and a spell of warmth (hopefully) will work magic.
2012 was of course the year we needed good conditions, with Pat being President of Yorkshire and Sessay committed to many more county events. However, we had to take things as they came and visits to various parts of the country, including the National Championships at Royal Leamington Spa went without a hitch (once again apart from the weather!) and Pat made many new friends and renewed old ones. It was satisfying also to hear various comments such as "A great year", "Well done" and "The best President we've had" Well done Queen Bee!
The major change to 2013 will be the Hovingham League finally having agreed to accept 3 rinks of four instead of the traditional 4 rinks. This will certainly relieve the pressure on our selection committee but we would still prefer to be able to provide the 16 players needed for a normal game – more members are urgently required!
A full fixture list is included and once again we look forward with anticipation to the new season – bowlers are nothing if not optimistic!
---
April 2012
As we approach the beginning of a new season there is an air of excitement around the club.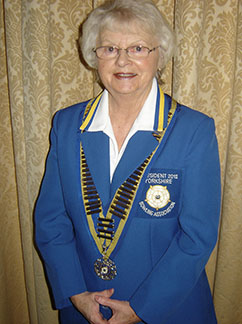 This year we are honoured to have our member Pat Bee as the Lady President of the Yorkshire Bowling Association. Pat has been a member of Sessay for twenty years or more and has fulfilled various club roles in that time, as well as being an active member of the Yorkshire Association. There can be no smaller bowls club to have had a member fulfill such an important job and the good wishes and backing of all members are assured. Pat will be involved in a great deal of work and a lot of travelling during the forthcoming season so she will need all the support we can give her.
The green itself is looking better this year after a fairly easy winter and our greenkeeper is hard at work trying to achieve and maintain a high standard for the extra county commitmemnts we will have during the season.
We still suffer from a lack of members and once again we are offering any newcomer a season free from membership fees.
---
April 2011
The 2011 season has just got under way and so far our three games have produced reasonable results -- however it is far too early to get carried away.
The winter was once again particularly hard with the green under snow and frost for 10 weeks continuously. This resulted in snow mould producing patches where no growth was taking place. It is slowly recovering but will take time. Every winter seems to bring its own difficulties -- such is the lot of the greenkeeper!
Because of the severe pressure on team selection last season due to lack of members, we decided to have an all out push for new members this year. Jeremy, one of our members produced a first class brochure which we distributed to every letter box in surrounding villages in April and the result was very pleasing. To date we have 12 prospective new members and look forward to their participation in bowls in 2011. To help them on their way we have once again managed to get the Yorkshire County Coaches to come to Sessay and give the benefit of their expertise.
We are all full of enthusiasm for the new season and hope for good weather.
---
October 2010
Once again it is my pleasure to present my annual report on the activities of the club over the past year.
As usual I start with comments on the bowling green itself and after all the problems of last year, I am pleased to say that its condition has improved somewhat. It took a few weeks of warm weather to fully recover from the problems we had following the re-turfing operation but finally settled down to look and play reasonably well. Whilst we had some complimentary comments on its condition throughout the season, it still has the underlying problem with moss but the greenkeeper is now resigned to living with the situation and simply trying to keep the problem under reasonable control. With this in mind, lawn sand and sulphate of iron will be the chief weapons so we will see how things pan out next year.
Our performances in the various league campaigns has been mixed as usual but the main accolade must go to the JSW team, finishing a very good second and only yielding top spot to Hutton Rudby after our very last match of the season at Northallerton. The other teams ended generally in mid-table positions but more on all performances from the respective captains.
Once again the job of the selection committee has been a most difficult one due to lack of players and members' personal requirements. This has been a problem for a few years now and your committee has decided the time has come to take action. Reluctantly, we have withdrawn from the Ernest Bateson Retirement League, which will of course mean no Friday afternoon games next year. Naturally, if membership picks up sufficiently, we will re-apply for membership. On the subject of league formats, the Hovingham League is as yet undecided what form it will take next year. It seems about half a dozen teams are about to withdraw to form a breakaway triples league -- if this happens then the Hovingham League will revert to one, not two divisions. The situation is not likely to be made clear until the end of the year. Meanwhile, your committee has decided that Sessay will continue to play in the Hovingham League.
Sadly, we have lost two of our charismatic ladies during the year. Pat Wilkinson passed away suddenly at the end of January and Sheila Lumley, after a short illness, died in June. Lady Pat was a long-term member of the club and did lots of behind-the-scenes work for us, while Sheila, although a more recent member, also did a great deal of work as well as playing regularly for the EBRL team and also filling in when available for other leagues. Both ladies are sadly missed but remembered with affection. As you know, Sheila's family asked for permission to provide a trophy in her memory and this was gratefully accepted. The first winner of this very handsome cup was Alan Galley (see pics) and the trophy will be contested each year from now on.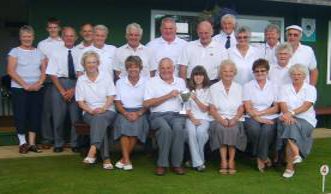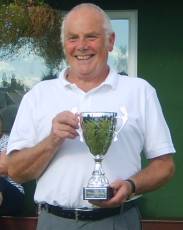 Once again we have been privileged to host a county match, Yorkshire taking on Cumbria on Friday August 20th. We also staged various county knock-out competitions during the season. This continues to be a feather in the cap of a small club like ours. Another compliment to Sessay Bowls Club is that your Treasurer Pat has been asked to take the Yorkshire Women's President's chair. Pat is scheduled to become Vice President in November and be elevated to President in November 2011. This will be a demanding task but one of which we should all be proud. When the time comes, please give our girl your full support.
As always, my grateful thanks to all who have helped in any way to make this another successful year for the Sessay Bowls Club. Winter well and come out fighting in 2011 -- Marshall Cup Day will be on Sunday April 17th, weather and green permitting -- and to save asking Albert, that is 153 days after our AGM.
---
May 2010
The 2010 season beckons and we are all looking forward to some good bowling weather.
The winter has been especially long and hard and has seen the green under snow, ice or water for long periods – not the best conditions for grass but it seems to have come through relatively unscathed, apart from the ever-present moss that is! Rather more affected is the hedge which surrounds the green and this does look as if it may have given up the ghost. People say that is nearly impossible to kill privet but time will tell.
Once again our "first team" finds itself in the second division of the Hovingham League after suffering relegation last season so we should at least have some easier matches – nevertheless, we still prefer to play against stronger opposition.
Like many clubs, we are finding it increasingly difficult to attract new players and this is placing ever-more pressure on the selection committee. We consider dropping a league each year but never seem to have the courage to do it but the time is coming when we will have to bite the bullet unless new members can be attracted.
It is pleasing to note that the Yorkshire County Ladies still value our services and we have another county match this year when Yorkshire take on Cumbria at Sessay on Friday August 20th. We are also pleased to be hosting various county competitions throughout the season.
With the unification of mens and ladies sections, the problem of insurance has become a topic of some concern. It is not yet clear where clubs stand on public liability insurance when they entertain players from non-affiliated clubs. Bowls England, the new governing body, seem unable to shed light on the subject so we may well have to take some extraordinary steps in the 2010 season to cover ourselves in case of accident.
In spite of lots of concerns, we still look forward to the 2010 season and can't wait to get onto the greens.
---
April 2009
The 2009 season has now got under way and has been one of mixed fortunes. In the Hovingham League we are doing better than anticipated bearing in mind we are now in the top flight. However, we are struggling in the other competitions, mainly due to our reduced playing members. This really is a problem and one we will have to address at the end of the current season, unless we can find some fresh blood!
The green is also causing concern, mainly due to the increase in the amount of moss. After last season's higher than average rainfall and a wet winter, the moss has really taken hold. At present we are trialling a new produce which is supposed to kill and digest the nuisance and we await the outcome with anticipation. It sounds too good to be true but time will tell. Added to that is the breakdown of both mower and irrigation system and you can realise what difficulties we have – but we battle on and still enjoy our games.
Once again, we have been honoured to host the Yorkshire County Women's Bowling Association this year and will be staging their match against Durham on August 28th.
We also hosted the County "Get-together" in May.
A busy season lies ahead and those of us who are still going strong are looking forward to bowling, hopefully in good weather.
---
December 2008
Once again, it is the time of year to look back on the season and I am pleased to present my report to the members of Sessay Bowls Club.
In spite of decreasing numbers - of which more later - it has been a good year for the club on the green. Once more, we managed to gain promotion to division one in the Hovingham League, finishing second to Welham in the second division. It will of course be a different story in 2009 when we will be up against much stiffer opposition - and be warned, our first match will be against Kirkbymoorside A away, followed in quick succession by encounters with Pickering and Swinton - welcome to the real world again! However, I for one am looking forward to playing in the top flight against better bowlers and on better greens and I hope we can at least maintain division one status for more than the single year. Our JSW team had a better than average season, coming third in the league, only half a point behind Sowerby Flatts. In the Galtres and EBRL leagues we weren't disgraced and at least we were able to give all our players plenty of opportunity to bowl as much as they wanted - in some cases rather more.
Still on the playing front, congratulations to Margaret, Marie and Pat, who did very well in becoming the Yorkshire Champions in the Benevolent Triples competition. Well done also to Edward, Margaret and their triples partner, who managed once again to win the JSW triples competition, repeating their success of a few years ago. Sadly, Albert and his mate were only able to manage the runners up spot in the pairs competition, being beaten in the final by a better pair on the day.
The green itself bowled reasonably well this year though there is still room for improvement. There is always a problem of some kind on a bowling green and this year, as you have noticed, it has been moss. Sessay is in an area which is good for the growth of this plant as the gardeners will be aware but it is certainly not appreciated on a bowling green. The greenkeeper informs me that there is a new miracle treatment for this nuisance, which sounds too good to be true so the intention is to trial it at Sessay over the next few months to see if it really does work. Don't hold your breath!!
This year has been a particularly difficult one for the selection committee as we have had so few names to choose from. It really has been a case of "If you can walk, you are in the team!" The number of members who have been unavailable for various reasons has not helped the problem. These are mostly good and genuine reasons but I am sure members would appreciate my remarks if they had an idea of how the selection committee has to agonise over their job. Of course if any member would like to become part of the selection committee, they would be most welcome. This brings me to another aspect - the number of leagues we are playing in. Because of the shortage of players, your officials are seriously considering withdrawing from one of these competitions. The question is, "Which One?" This is a topic which must be discussed and it seems to me to be a necessary item for the forthcoming AGM - so think about it and come to the meeting with your thoughts.
It has also been disappointing that the number of entries into our club competitions has dropped over the recent past. Again, this is due to mainly good reasons but the quality of the competitions is degraded if the numbers are down.
This year sees the departure of our Secretary. Jean Bates has been in the post for 11 years and has done a first class job. She now feels that her own health and that of Bernard is such that she needs to wind down so it is with regret that I have accepted Jean's resignation with effect from this year's AGM. My personal thanks and I'm sure those of all club members go to Jean for her hard work and commitment over her time in office. If any member would like to take on this job, please let me know if possible before the AGM so that candidates can be considered.
Once more we have been honoured to host two county matches and the "County get-together". Yorkshire entertained Lancashire in June and in September, Cumbria were the visitors. Yorkshire County WBA still seem to be happy with our facilities and have once more indicated their intention of returning to Sessay in 2009. As a small village club we should be proud of our achievements and work hard to maintain these important links. I know it puts pressure on our already very busy ladies but there are many clubs who would give their eye teeth to be able to boast our record.
Thanks finally go to all those members who have worked tirelessly over the last year to further the cause of Sessay Bowls Club. I am not naming names as I would be sure to miss someone and possibly give offence but they know who they are and I'm sure all members will also be aware of the people who make the club tick.
Finally, my thanks to you all for your support over the past year. I wish you a good winter and look forward to the season 2009.
PS - Just before putting this report to bed, I was informed of the sad news that Frank Sturdy had passed away. Frank has been a most valuable member of Sessay Bowls Club since he joined us from Asenby some years ago and his ready wit, not to mention his quality as a bowler will be sadly missed. My thoughts and prayers and I am sure yours, go to Frank's family at this sad time.
---
April 2008
Here we are on the threshold of a new season and right on cue, the weather turns cold and wet!!
Nevertheless, our opening day, on Sunday 20th April was bright and sunny, if a little on the cool side but bowlers are made of stern stuff and a good day was had by all, in particular Margaret Watkinson, who won the seasons first trophy, the Marshall Cup, beating Ken Ellis in a nail biting final. A good turnout enjoyed the proceedings, getting their bowling muscles in tune for the months ahead and enjoying, as always, the tea which followed.
We now start on a crowded programme of league games and as the fixture list illustrates, we are going to be very busy right up to mid September.
Once again, we have been honoured to be awarded two county matches at Sessay, on June 6th, when the visitors are Lancashire and September 5th when Yorkshire entertains Cumbria. In addition, we are involved in holding some of the county knock-out stages so work once more not only for the greenkeeper but also the catering staff! We are of course proud to hold these fixtures on a small village bowling green and it says much for our facilities that Yorkshire Ladies keep coming back for more.
On a more sombre note, it is sad to report that two of our stalwart members are no longer with us. Brian Croser and Gordon (Bomber) Lancaster both died just before the start of the season and as regular members of our First eleven, they will be greatly missed as good friends as well as competent bowlers.
So here we go with a new campaign and we look forward to good results, good bowling and of course good fellowship.
---
October 2007
Season 2007 was not the best as far as results are concerned but I believe that members enjoyed their bowls in spite of the moderate results. Sadly, we are once again relegated to division two in the Hovingham League but I am quite sure that we will bounce right back to the top flight as we always seem to do. The other leagues were much the same as usual, with Sessay finishing in mid-to-low positions but giving as many games to members as they wanted.
One good point to note about 2007 is that we attracted some new blood into the club and I would like to say what a pleasure it was to welcome Geoffrey Page and Melissa Clark into our midst. I hope they both enjoyed their experience and will continue in membership for many years to come. At just nine years of age when she first joined, it was particularly pleasing to see Melissa play in a couple of matches and I for one look forward to charting her progress. And how's this for a lesson in how to deliver a wood –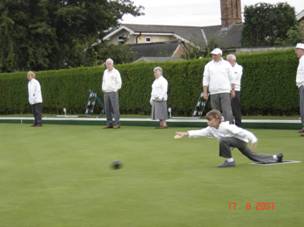 As I said at the time, when she plays for England, this will be the first picture to go into her scrap-book!
Congratulations to all our trophy winners this year and a special word for Albert Jeffray, who reached the final of the JSW singles competition. Albert claimed some excellent scalps on his way to the final but couldn't quite keep the momentum going and ended runner-up. Albert was also successful in winning two of our own club competitions. A particular mention also to Pat Bee who won no fewer than three singles and two pairs competitions at club level. As Ann Thompson said on the day, "Pat simply slipped into automatic pilot and got on with it!" Pat also got to the semi-final of the Champion of Champions, the semi-final of the County Pairs with Marie Scoby-Smith and the final of the Benevolent triples with Ann Thompson and Margaret Watkinson. Well done to all of them!
Apart from our poor performance on then green, the biggest disappointment of the season was our inability to run our usual Whistle-Stop day. As well as being sad for the players who would have had a good day's bowling, it also deprived the club of much needed finance. I will try once more next season but Whistle-Stops generally seem to have passed their sell-by date so we will have to hope for the best.
In view of the forgoing, it is a good job that we once again attracted County competitions to Sessay and this year we were pleased to welcome the Yorkshire Ladies for their "May Bowl", Lincolnshire v Durham in the John's Trophy and Yorkshire v both Durham and Northumberland in the Northern Counties. We also put on the County Triples knock-outs. As well as the honour of staging such matches, it also brings in much needed cash to the club and these games made us a profit of almost £650. This is due to the hard work put in by our lady caterers and we really do owe them a huge debt of gratitude.
| | |
| --- | --- |
| Yorks v Northumberland, August 24th | Yorks v Durham, June 8th |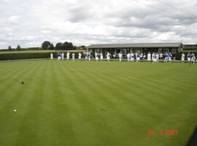 John's Trophy, July 10th

The green has not been without its problems once more, this time the presence of moss has been apparent – we are doing all we can to eliminate this and hopefully next season will see an improvement.
Finally, my thanks to all club members for their help and support during a difficult season. I wish you all a good winter and look forward eagerly to 2008
---
April 2007
The new 2007 season is now upon us, our green being opened for play on Thursday April 12th. The official opening of the season is on Sunday April 22nd with our usual get-together for the Marshall Cup competition, followed by tea in the pavilion.
The green has wintered well apart from an above average incidence of moss – this is causing the green-keeper some worries but all should be well by the beginning of May.
Once again we have been honoured to have two county games awarded to Sessay this year. We will be hosting Yorkshire versus Durham on Friday June 8th and Yorkshire versus Northumberland on Friday August 24th. In addition we have the YCWBA "May Bowl" here on Wednesday May 9th as well as various county knock-out competitions.
---
October 2006
The 2006 season has now drawn to a close and for Sessay it has been a good one.
Our Hovingham League team finished top of the second division and gained promotion once again to the first. This is not unusual but we have a nasty habit of not remaining in the top flight for long. This time we hope to stay with the elite group for a few more seasons.
In the JSW league we finished fourth after a promising run but failed to maintain our form at the very end of the season. Nevertheless, fourth is a creditable performance.
Out other two league positions were more modest but we try to give as many matches to as many players as possible so results become less important.
We were delighted once again to host county matches on the green, this year were allocated the County "Get-together" and two county games against Derbyshire and Cumbria. Later on we were also asked to take the friendly against Nottinghamshire. We were delighted with the feedback from these matches - both the green and the catering facilities were highly praised.
The new pavilion is now fully operational with both water and electricity connected and once again it has received complimentary comments from visitors to the club.
The green has now been "Put to bed" for the winter but of course work on it will continue with mowing, spiking, fertilising and general winter maintenance - work done during this period sets the scene for next season.

Yorkshire v Derbyshire. May 25th 2006


Yorkshire v Cumbria. June 2nd 2006



Yorkshire v Notts. July 18th 2006
---
April 2006
As we approach the 2006 season the weather becomes an important factor. The winter has been good inasmuch as we have had some good hard frosts to kill off many of the bugs. However we now have rather too much moisture so getting onto the green to prepare for bowling is going to be difficult -- green keepers are never satisfied! Nonetheless, we fully anticipate all being in good order for our opening day on Sunday April 23rd.
Once again we are pleased that the Yorkshire County Ladies are gracing us with their presence this year. Our first encounter will be the County get-together on Friday April 28th and this will be followed with a County Friendly Match against Derbyshire on Thursday May 25th. Hot on the heels of that, on Friday June 2nd we are staging a full county game against Cumbria and the usual county knock-out games will be played throughout the season. In addition to county matches, we are also going to be busy with our usual league games in the Hovingham, JSW, Galtres, EBRL and Hambleton Mini Leagues so the green will be fully occupied once more.
The winter has been spent to good effect off the green as well as on it. We have now installed electricity and water to the new pavilion so this facility is now fully operational and a credit to all those members who have worked hard to complete this most important project.
---
October 2005
The season is now over and we have had mixed results in our various league campaigns but the main thing is that everyone has enjoyed their bowls.
Once again we were honoured to host another county game when the Ladies of Yorkshire took on Lancashire in June and we also hosted the May Bowl which is the traditional curtain raiser for the Yorkshire Ladies teams.
Our best result of the season was the success of our three ladies shown in the picture. Pat Bee, Ann Thompson and Margaret Watkinson won the Yorkshire section of the Benevolent Triples competition and received their trophies at the YCWBA Annual Lunch in York. Well done girls!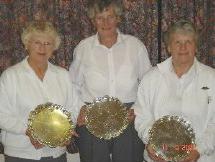 The picture shows Pat, Ann and Margaret with their Yorkshire Trophies
Our Finals Day was once again a great success, good weather prevailed and we managed some new names on the trophies - together with some usual ones!
The green has now been "Put to bed" for the winter and is looking in good shape - lets hope the forthcoming season is good to us and causes no serious damage.
We now look forward to 2006 with anticipation and hope it proves to as enjoyable as 2005.
Winter Well!